FAQ – Questions Fréquentes
Qu'est que Goclecd.fr ?
Goclecd est le spécialiste des comparateurs de prix pour les jeux vidéo. Plus de 1300 produits référencés sur nos plateformes de comparaison parmi plus de 50 vendeurs spécialisés dans le domaine des jeux vidéo comme Steam, Origin, Amazon, GreenManGaming, Orange et beaucoup d'autres.
Goclecd.fr Vous propose le plus grand catalogue de prix de jeux vidéo parmi des vendeurs testés et approuvés par nos équipes. Si vous cherchez le prix le plus bas d'un jeu vidéo, il est certainement sur Goclecd.fr. L'objectif de nos comparateurs est d'offrir les meilleurs prix pour les joueurs. Ces sites ont été faits pour des joueurs par des joueurs.
En effet, nous avons tous fait nos classes sur des jeux comme Starcraft, pour avoir été en Corée participer au World Cyber game sous le Tag aAa , Quake 3 ou Counter Strike en participant la CPL (Cyber Athlète Professional League). World Of Warcraft pour des first Kills en France et en Europe. Guild Wars 2, League of Legends et nous nous préparons à investir des jeux comme Wildstar et Elder Scroll Online sous le tag Warlegend.
Comment choisir les vendeurs spécialisés présents sur Goclecd.fr ?
Sur Goclecd.fr tous les vendeurs sont testés par nos équipes.
Chaque vendeur a fait l'objet d'une démarche qualitative réalisée par nos soins.

Ce qui nous permet de proposer a nos usagers la meilleure expérience d'achat.
Nous avons également négocié de nombreux code de réductions pour vous permettre d'acheter vos jeux toujours au meilleur prix.

Pour acheter un jeu vidéo lorsque vous avez choisi le vendeur qui selon vous propose la meilleur offre, il vous suffit de cliquer sur cette icone.
Vous serez automatiquement amenés sur la page du jeu que vous avez sélectionné. Il ne vous suffit plus qu'à créer un compte si c'est votre première visite, et de choisir le système de paiement. Votre clé cd sera envoyée par mail et vous n'aurez plus qu'à l'activer sur la plateforme de votre choix.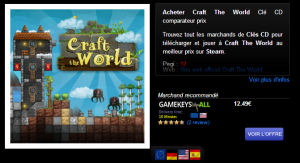 Vous pouvez également choisir le vendeur que nous avons sélectionné pour vous. Ce vendeur que nous mettons en avant bénéficie de notre confiance quant à la qualité de son service, la rapidité du traitement des achats et des envois.
Il bénéficie également d'une meilleure note auprès des utilisateurs. N'oubliez pas que vous pouvez donner vos avis sur chaque vendeur et leur donner une note lorsque vous avez utilisé un vendeur. Cela nous aide et aide les futurs acheteurs lors de leur sélection de vendeurs.
Pourquoi les prix sont si bas sur Goclecd.fr
Il y a plusieurs raisons :
les vendeurs qui proposent ces jeux n'ont pas contrat d'exploitation avec les éditeurs, ce qui leur permet de ne pas avoir de plafond minimum imposé pour le prix.
Les jeux ne nécessitent pas de forme physique pour être vendu et cela ne nécessite pas de transport ou de conditionnement.
Les jeux vendus ne sont pas soumis au même régime de TVA et donc sont achetés beaucoup moins chers.
Les structures qui vendent ces jeux n'ont pas autant de frais que Steam et Origin ce qui leur permet de diminuer leur marge pour rendre plus attrayant les prix qu'elles proposent.
Est ce sécurisé d'acheter un jeu chez les vendeurs que vous référencés ?
Tous les vendeurs qui apparaissent sur nos comparateurs sont testés régulièrement de manière anonyme par nos équipes. Vous pouvez également donner votre avis d'acheteur sur nos fiches dédiées aux vendeurs.
Un vendeur qui aurait trop d'avis négatifs serait suspendu de nos comparateurs et sa mise en avant sur nos sites serait remise en question pendant notre enquête. Nous mettons un point d'honneur sur la sécurité et la qualité du service des vendeurs que nous référençons.
Certains vendeurs ne sont pas sur nos comparateurs car ils n'offrent pas les conditions suffisantes pour la sécurité et le confort de nos utilisateurs ou encore, traîne derrière eux une mauvaise réputation.
Attention tous les vendeurs qui n'apparaissent pas sur nos sites ne sont pas pour autant de mauvais vendeurs Il peuvent ne pas souhaiter apparaître ou tout simplement ne nous ont pas contactés.
Méfiez-vous tout de même des sites qui vous font miroiter des offres et des prix fabuleux. Il n'est pas rare de voir des personnes se plaindre d'avoir été trompées lors de leurs achats. C'est pour cela que nous vous conseillons d'utiliser notre plateforme de comparaison de prix.
Nous avons fait le nécessaire pour que ce genre de problèmes ne vous arrive pas, ou dans le pire des cas de pouvoir vous assister pour que le problème soit résolu au plus vite et en tenant compte de vos intérêts avant ceux du vendeur.
Les clé cd, comment ça marche ?
C'est très simple Une fois achetée vous recevrez votre clé dans la boite mail que vous avez renseignée lors de votre achat. Il vous suffit d'activer la clé sur la plateforme qui l'accueille (Steam, Origin, Uplay, ou bien sur le site de l'éditeur). Voici les logos qui vous renseigneront sur la plateforme, ou le type de clé cd que vous pourrez retrouver sur nos sites
Comment dois je activer ma clé cd ?
Lorsque vous aurez reçu votre Game Code sur votre boite mail, il vous suffira de le rentrer sur la plateforme correspondante ( Steam, Origin, Uplay etc…). Vous pouvez également consulter nos tutoriels pour activer vos clés cd sur les diverses plateformes. Activer une clé cd sur Steam Activer une clé cd sur Origin Activer un clé cd sur Uplay Activer une clé cd Russe sur Steam ou autres.
Vous avez un site de vente de game Code et vous souhaitez apparaître sur nos comparateurs ?
Rien de plus simple, il suffit de nous contacter a cette adresse Contact[@]Allkeyshop.com.
Nous étudierons votre demande. Toutes les demandes ne seront pas automatiquement validées. Nous nous réservons le droit d'accepter ou de refuser un vendeur si celui-ci ne correspond pas a nos critères de qualité, de sécurité, et de réputation.